***Note***
Enrollment For This Course is Now Closed
We appreciate your interest and encourage you to let us know
you want to be notified the next time this course is offered.

Send email to:
kellyc.queen@processwork.org
to be put on the list.
SOCIAL PRESENCING THEATER SERIES
Unlocking Embodied Knowledge for Innovation and Discovery
An Introduction to the Social Presencing of Arawana Hayashi, Co-Founder of the Presencing Institute

With Annie Blair & Carol Zahner
Course Dates:
June 15, 22 & 29, 2021
Discount and Financial Equity Available
See Below
Our Feeling, Moving, and Aware Bodies are Full of Wisdom!
Fundamental to Arawana Hayashi's teachings of Social Presencing is the concept of body-mind synchronization, an invitation to rest our attention (mind) on the feeling of the body. When mind and body are synchronized, awareness is naturally present. This gives access to a holistic intelligence, enlivening our connection to the earth body and the social body (our group, community and social environment).
In this series, we'll guide practices to develop body-mind synchronization individually and collectively.

We'll explore how information from our body clarifies and deepens understanding of our current inner state. From that state, we can see our relational and communication patterns more fully.
Social Presencing Theater Series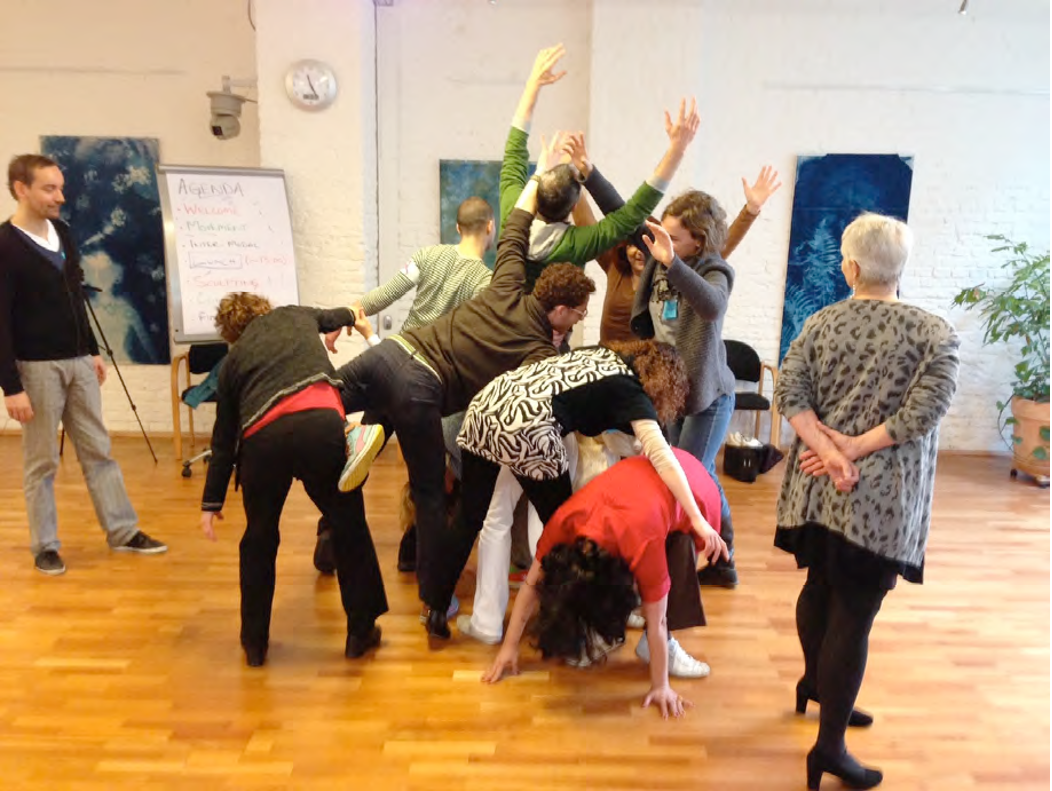 You will gain skills to clarify current interactional dynamics and tap into spontaneous, fresh ideas for emerging directions.
These practices are tools of the Presencing Institute's Theory U, an innovative method for social change. They have been developed by Arawana Hayashi in conjunction with Otto Scharmer, MIT Economist.

What You Can Expect
Participants Will Gain a Greater Understanding of:
The fundamental practices of Social Presencing Theater.

How to enhance the feeling awareness of your social interconnectedness, our social body.

An increased sense of the impact of your social presence, something we often undervalue or ignore.

How to access your deeper sense of knowing as a creator and a leader.

Relating with others on a nonverbal level and the valuable information it says about your social system.

A sense of what wants to emerge from the social field.

How to develop and increase your physical awareness of what your body expresses.

Social presencing theater series
Instructors

Carol Zahner
MS, Dipl PW

A co-founder of Processwork Latin America, adjunct faculty at the Process Work Institute and La Escuela de Trabajo de Procesos in Barcelona. Her current research explores the combination of Processwork and Social Presencing in individual and group work; and teaching in ways which honor cultural differences.


Annie Blair
MA, Dipl PW, RSME
Annie uses Processwork, Social Presencing and Authentic Movement to support and accompany individuals and groups who are curious about the ways they move through the world.
social presencing theater SERIES
Explore How Social Presencing Can Benefit You
Cultivate listening to the language of the body.

Inviting the body to take the lead.

Allows our thinking mind to step back and the body's feeling to come forward - being loyal to.

Develop your body sense of the social environment and discover what is emerging in a group.

Give more options to navigate challenging situations such as conflict or unexpected change.

Cultivate more comfort in not knowing and open to what might be trying to emerge.
Social Presencing helps people to more easily participate in situations where:
- there are a variety of languages spoken
- they are speaking to groups
- expressing themselves non-verbally is ideal
Social presencing Theater SERIES
Course Dates and Times
FOUNDATIONAL DAILY PRACTICES

Tuesday June 15,
3 Hours
9 AM (PDT)
NOON (EDT)
6 PM (CET)
Today, we focus on two individual practices that form the basis of all other practices.
Mindfulness of Body:
Turning our attention inward, we attend to our bodies as sensing organs with friendly interest and without judgment. We feel more grounded and present which cultivates natural openness and interest in the world around us.
Stuck - From the Present to the Emerging Future: Believing that there is wisdom within a sticky situation, this practice is a "process that transforms a present challenge into a future possibility."


FOCUS ON SOCIAL INTERACTION

Tuesday June 22,
3 Hours
9 AM (PDT)
NOON (EDT)
6 PM (CET)
We will do practices to cultivate awareness of:-the social body, a physical group of people-the social field or the interiority of the social body, the feeling quality of relationships with ourselves, each other, and the unfolding situation in a group.We start with non-verbal duet conversations and expand to groups of 4-5. Moments of stillness and resonance deepen the experiences.
CREATIVE POTENTIAL IN OBSTACLES

Tuesday June 29,
3 Hours
9 AM (PDT)
NOON (EDT)
6 PM (CET)
Th
e Stuck Practice from session 1 is expanded by adding the forces that affect the sticky situation. A small group embodies the feeling of being stuck as well as the internal or external elements that block, pull in two directions, push down, etc. To discover the wisdom in this system we first clarify it and then let the it move and show the emerging future.
Everyone is Welcome
No previous experience with Social Presencing or Processwork is necessary to attend.
For Those With Processwork Backgrounds:
Increase awareness in proprioceptive and movement channels.
Offer formats that could be applied to edge work and group dynamics
Give practice accessing a nonlinear state of mind.

Photo: Ricardo Dutra Presencing Institute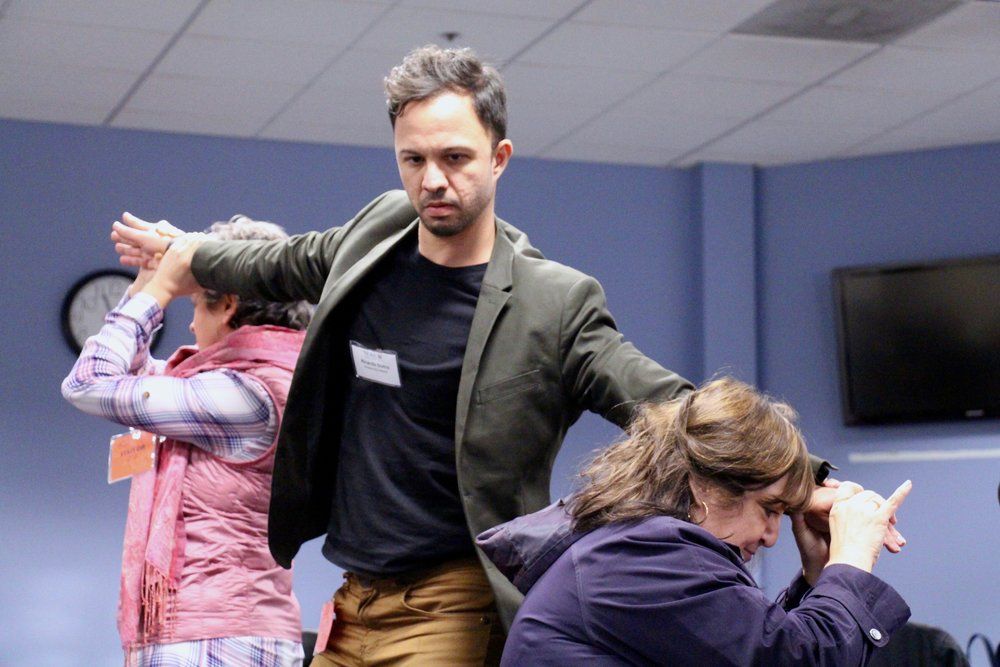 Course
Fee:
$240
Includes All Sessions
and Materials
Financial Equity:
$150
Use Promo Code - FinEQSoc
Space is Limited - Reserve Your Spot Today
Sign Up for the Free Preview